Delaware County Tavern licenses for the year 1755
CHESTER - James Mather, Aubrey Bevan, John Hanley, David Cowpland
DARBY - John Rudolph, George Wood
CHICHESTER - Thomas Clayton, Mary Pain, James Pillion
MIDDLETOWN - Joseph Talbot
CONCORD - Jno. Hannum, Nath'l Newlin
CHESTER TWP -0 James Strowd
RIDLEY - Mord. Thomson
RADNOR - Sampson Davis
NEWTOWN - John West, Richard Barry
Public house Licenses for 1830;
Birmingham - Cheyney Weston
Brandywine - Grabill Diller, James Huskins, John Kerlin, Robert Worrall, Henry Widener, John Gray
East Bradford - Benj. Kerns
West Bradford - Lydia Martin, Isaac Carpenter, Joseph Worth, Joseph Baldwin
East Caln - Jacob Parke, Isaac Downing, Benj.Miller, Richard Milleson, John. Diller, George Lauer
West Caln - John Marsh, Joseph Hughs, Wm Jacobs James Neiler
Coventry - Garrett Hoopes, Jon. Missimer JB Willauer, Abraham Shantz, John Young Jr
Charlestown - Jonathan Rand, Enoch Wells, Samuel Guss
Easttown - John Dane, Alex, Finley, Thomas Temple, Jacob Clinger
E. Fallowfield - John Fallowfield, Robert Young
W. Fallowfield - George Phillips, Samuel Futhey, Levi McCormick, Matthew Cochran, Wm Baker, John Monaghan
East Goshen - Isaiah Matlack, Jona Hoffman, Joseph Phillips, Henry Horne
New Garden - Sidney Marsh, Jacob Taylor, Levengood,Peter Foland, David Buchanan, Wm. Owen
Kennet - Harlan Gause, Jacob Hopple, David Martin
New London - Jane Mackey, James Alexander, Abigail Cunningham
London Britain - Jacob Dehaven
Londongrove - Joseph Wood, Wm Harris
Londonderry - Jacob Reese
E. Marlborough - Benj. Worth, Emmor Worth,Thomas Preston, John Entriken
W. Marlborough - Hayes Clark
E. Nottingham - Wm Barrett, Jacob Hilaman, Timothy Kirk. William Donnelly, Wm Rutherford
W. Nottingham - Joseph Kirk
W. Nantmeal - Joseph Grier, James Bones, Abigail Beard, Maria Morris
E. Nantmeal - Sarah Clingan, Wm Strickland
Lower Oxford - John Twaddell, David Hayes jr
Upper Oxford - Robert Andrews, Benjamin Hickman, William Crosby
Penn. - Wm. Walters
Pikeland - Margaret Holman, Anthony Olwine, Samuel Shearer, Wm. Wagonseller
Sadsbury - Samuel Jackson, John Kendig, Joseph Thornbury, Samuel Wentz, Adam Bear, Nathan Frame, James Dickinson, Nicholas Boyer, Samuel Whitehill
Schuylkill - Joseph Anderson Saml Bennett, John Workizer, Abraham Olwine, Saml. Moore
Tredyffrin - Wm Sytrickland, Joseph Evans, Henry Bell, Wm Lewis, Jesse Moore, Abraham Beidler
Uwchlan - John Gordon, Jesse Stridkland, Isaac Evans
Vincent - Jacob Ludwick, Fredrerick Sheeder, Conrad Bode, Wm Rogers, Job Fudge, Henry Ortlip, Wm. Whitby, C. Shaner
E. Whiteland - Jane Pearce, John Snyder, Charles Fabnestock, Henry Souders
W. Whiteland - Joseph Hoover, Joshua Darlington, Joseph Hall, John West, Levi Evans
Willistown - Geo. Avis, Tho. Tucker, Saml. Cheever, Henry Coffman, Isaac Bond, Saml. Dick
Westtown - Thomas Darlington
West Chester - Daniel Buckwalter, Samson Babb, Davis Beaumont, Richard Evans, John Babb, Peter Osborn, Ann Mason, Imla Bennett
On the Lancaster turnpike were the following Public Houses
The Spread Eagle
Spring House
Bear
Paoli
Green Tree
Warren
General Wayne
Steamboat
Sheaf of Wheat
Ship
General Washington
Swan
Prussian Eagle
Midway
States' Arms
Rainbow, Washington
Black Horse
Cross Keys
On the Strasburg road there were
The Black Horse
Centre House (Marshalton)
General Wayne
Golden Eagle (Worth's)
White Horse (Young's)
Dravo (Humphreyville)
Fountain Inn (Parkesburg)
Swan.
In 1880 the number of licenses granted to hotels was 58 and eating-houses 23
Other area public houses
Anvil, Unicorn and Plow - Kennet
Hammer and Trowel - New Garden
Half-Way House (now Chatham) and White Horse - Londongrove
Stage and Lepoard - Easttown
Buck - Coventry
Lamb - Wallace
Gum Tree, Sorrel Horse (formerly Spinning Wheel), Mason's Arms - West Fallowfield
General Green, Boot, 3 Tuns - East Goshen
Cross Keys and Fox Chase and Drove - East Marlborough
Globe - West Nottingham
Rising Sun, Washington, and Yellow Springs - West Pikeland
Bull, Fountain Inn, Valley Forge, General Pike, General Lafayette - Schuylkill
Red Lion and Eagle - Uwchlan
Seven Stars, Captain Lawrence, Poplar Tree - Vincent
Indian King and Grove - West Whiteland
Dolphin - Birmingham
White Horse and William Penn - Willistown
Eel's Foot - East Bradford near Jefferis' Ford
Turk's Head, Washington, Cross Keys Black Bear, Green Tree, Eagle, Travelers' Rest - West Chester
the present day (1881) Mansion House was originally called the Chester County Hotel
---
Tavern petitions
December 5, 1771
The Pennsylvania Gazette

TO BE SOLD, On Thursday, the 26th of December instant, A VALUABLE messuage,
plantation and tract of land, situate in Radnor Township, Chester County,
adjoining the Lancaster road, containing near 100 acres of good land, about
16 miles from Philadelphia, about 70 acres cleared, and the remainder
exceedingly well timbered, about 14 acres of very good watered meadow, and
an excellent orchard, that bears plentifully every year, the dwelling house
is a large well furnished stone building and a well accustomed tavern, known
by the name of Spread Eagle, and is well accommodated with a barn, stables,
sheds, gardens, &c, a pump of good water near the door, with troughs to
water creatures. Any person inclining to purchase, may come and view the
premises before the day of sale, at which time the conditions of sale will
be made known by Adam Ramsower.
++++++++++++++++++++++++++++++++++++++++++++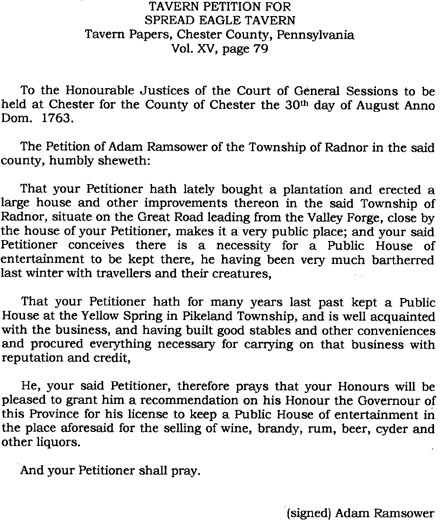 _____________________________________________________________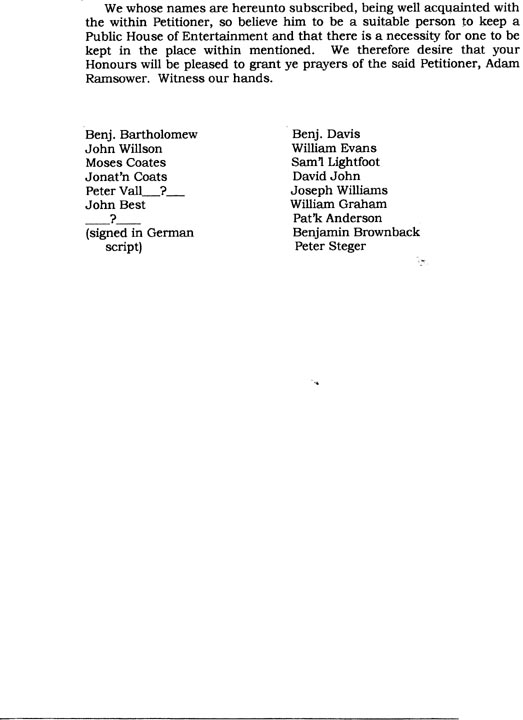 ---
This page updated on January 31, 2009